I had a great time in Los Angeles last week with my friend and colleague Jobst Blachy and the brilliant photographer Lisa Romerein. Jobst runs Quintus, the furniture company I invested in recently (see this post). Lisa worked with us to photograph the latest additions to Quintus' collections, and I wanted to share with you a preview of the work.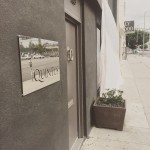 To me, the luxe quality of the craftsmanship is an integral part of the Quintus experience we are creating – both visually and in the product itself. I hope you agree that Lisa's pictures do a great job capturing these exquisite, modernist designs.
The new designs help round out our offer, adding a bed, a cocktail table, a sofa and other core pieces to existing offerings. They continue to build upon the existing collection's strengths, showcasing exceptional attention to detail and a pleasing mix of classical and modern design influences. I love the accents of parchment, brass, and hardware from the talented folks at Rocky Mountain Hardware.
"Every piece in the collection has a design element that is soft and curved, even slightly feminine." Jobi notes. "We wanted the collection to have a softer edge to it, not the more typical, harder modern line that is found so frequently in the market."
Designers in the Bay Area will get the first look at the new collection, which will be on view at the WestEdge San Francisco exhibition, June 4 and 5 on Pier 27. If you're in San Francisco those days, please stop by WestEdge to take a look and say hi to Jobi and our regional sales director, Grey Lux.