I am so honored to be working with furniture maker Eric Brand as the first participant in his unique, limited-edition Signature Series.
The Series is the brainchild of Brand, who for nearly 20 years has been collaborating with leading architects and designers to manufacture furnishings showcasing a rare blend of creativity and manufacturing expertise. For the Signature Series Brand is offering designers a palate of exotic materials, featuring unique manufacturing technique and finishing. He is then asking them to dream, and conceptualize limited-edition products using the materials and processes.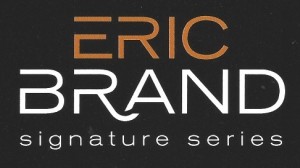 Brand envisions the program as a tribute to the great designers he's worked with over the years, but for all participants it's a special opportunity to reinforce the importance of great design collaboration. Accordingly, all profits from the Signature Series will underwrite a scholarship program for design students, offering a mentorship and internship with either the Eric Brand company or the designers. For me, that's a powerful motivation.
Brand's selection of raw materials and techniques gives some hint at the unusual potential of this innovative program:
Selenite is a form of gypsum, colorless and transparent, which shows a pearl-like luster and even a moon-like glow.
Lost wax casting is a technique that dates back at least 5,000 years to India, using a series of molds to create a patinated brass object.
Nickel and brass plating, depositing a thin layer of nickel/brass onto the surface of a metallic object.
High gloss lacquer, applying a resin to wood surfaces to form a highly durable and clear seal.
Gold and silver leaf, a delicate and precise process to gild surfaces to a high luster.